12th Annual Power of DC
August 18-19, 2012
Drag Race and AutoCross
at Capitol Raceway and
FedEx Field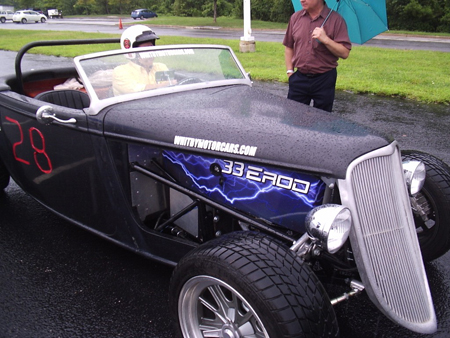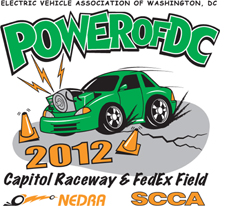 The 12th Annual Power of DC was pretty fun despite the fact that the Captiol Raceway was still closed for renovations and the rain slowed things down at the AutoCross on Sunday but not enough to keep us off the SCCA race course at FedEd Field.

We hope to reschedule the drag race sometime in September. See the photo gallery and the video on the Gallery Page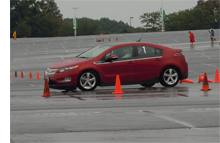 We had a pretty good turnout for the AutoCross at FedEx Field. Ken Babour took home 1st place with his Nissan Leaf. Ken Clayton raced his lithium powered E-Rod with a Soliton controller. Ken Barbour and Alan Arrinson came down from New Jersey. Ken drove his Leaf and Alan drove his Chevy S-10 with the Dolphin contoller. Locally, Joe Lado and Bryan Murtha raced their Chevy Volts. Ken Clayton was only able to get 4 runs in before he had to go back home. His times would have been faster if he was able to stay and get a few more runs in.
AUTOCROSS RACING RESULTS
1
Ken Barbour #5
Nissan Leaf
74.837
2
Bryan Murtha #11
Black Chevy Volt
75.163
3
Joe Lado #1
Red Chevy Volt
80.263
4
Ken Clayton #28
E-Rod
82.871

5

Alan Arrinson #10
Chevy S-10
82.980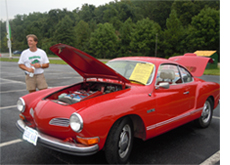 Others came along with their EVs including Dave Davidson with his Nissan Leaf, Charlie Garlow brought Jerry Asher's Plug-In Prius called the Spirit of DC, Lanny Hartman and John Alder brought their ThinKs.

Mark Hanson brought his recently completed lithium powered Karmann Ghia from Roanoke Virgnia.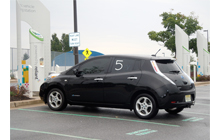 There were plenty of charging opportunities since FedEx Field has 10 charging stations fed in part by the largest solar array in the DC area. The solar area is a huge solar car port the covers the west part of the parking lot. So racers and visitors were able to charge up during the event.
We'd like to thank our sponsors: Manzanita Micro, Renewable Energy and Electric Vehicle Association, Thunderstruck Motors, Virginia Solar Council, Mindy Kimball and EV Parts.
2011 Power of DC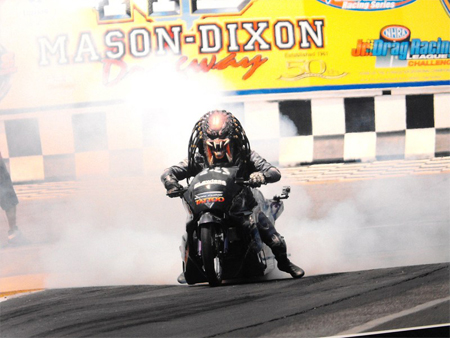 Jeff Disinger and his awesome Predator Drag Bike at the 2011 Power of DC
The big news for 2011 was that the AutoCross was featured on MotorWeek. Check out the vide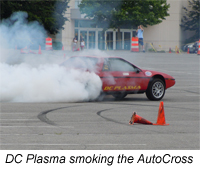 Several EVers traveled from across the US to get to the 2011 event. John Metric came all the way from Texas to race his hot Fiero, Lowell Simmons came up from Florida with the Miramar High School Porsche 944, West Wilkes High School brought their Miata from North Carolina, Dave Cover travelled from Connecticut with his Porsche 944, Dave Delhman came down from New York with his DeLorean and Jeff Disinger also came from New York with his hot Predator drag bike and cool go-kart. Don Auker drove his Tesla from Pennsylvannia. Most of these guys have been to the Power of DC before!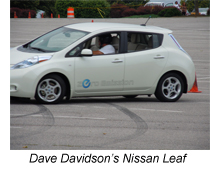 Also this year, we saw a surge in production EVs enter the event. Dave Davidson had just taken delivery of Maryland's first Nissan Leaf and only had the car for a week and raced it both days. Joe Lado and Bryan Murtha brought their new Chevy Volts and Mindy Kimball brought her Smart EV.

Even heavy hitters from the automotive industry attended the event. An official from Nissan North America came out to see the AutoCross. Motorweek spent the day at the AutoCross to film the event.
Racing Highlights

John Metric had the capability of moving up in the times for the AutoCross but he's one not to color inside the lines. Dave Delman joked that he was distracted by the Fiero's skidmarks which apparently didn't follow the course set up by the SCCA folks. Hopefully, the SCCA won't ban us after this event. Dave Erb, who does alot of SCCA racing got the Nissan Leaf down to 37 seconds and the Smart EV down to 41 seconds. The high school cars (Miramar Porsche and West Wilkes Miata) looked great going through the course and put up impressive times.
The Anti-EV Vortex cut the fun short for the drag race by a couple hours but we still managed to get quite a few runs in before the deluge hit. Don just missed the SP/A3 record by only .09 seconds. Both Lowell and John were hoping to get into the 11s but some technical glitches and bad luck kept them in the 12s, which itself isn't bad. Dave Delman and Jonathan Belak both got NEDRA records. Dave, an 1/8 mile record. The Predator did a 3 foot wheelstand on one run.
Check out the Photo Gallery for photos and videos and race results here.
The 2011 Power of DC is in Honor of Bob Rice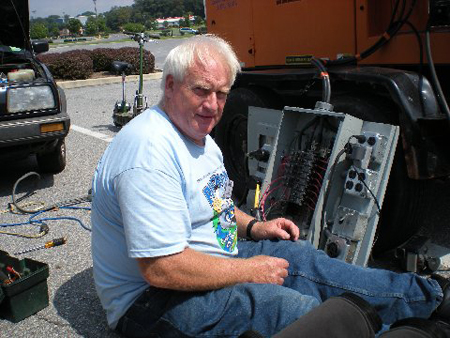 Bob Rice working the charge station at the 2010 Power of DC
This year's event was in honor of Bob Rice who was President of the New England Chapter of the Electric Auto Association (NEEAA). Bob was an EV pioneer and had been to every Power of DC since it first started over 10 years ago. At the 2010 event he managed the charging area making sure all the Teslas and higher voltage EVs had plenty of NEMA 1450s to charge from. He has also been a sponsor of the Power of DC throughout the years. Late in 2010, Bob had a stroke and was recovering well but caught an infection and passed away in May. We miss him greatly. During the awards ceremony after the drag race we spent some time sharing Bob Rice stories.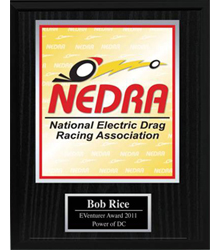 In Bob's honor, NEDRA created the "EVenturer Award" for the EVer who trekked the furthest to come to the event. Bob himself had traveled across the country to attend Woodburn in Oregon and many other EVents across the country.

For the 11th Annual Power of DC, John Metric will be awarded the Bob Rice Eventurer Award for traveling all the way from Texas to Maryland.

Thanks Bob for all you have done for the EV movement!

2011 Scooter Raffle Winner Announced!!
This year we raffled off a nice 48 volt scooter courtesy of the Green Commuter in Tacoma Park Maryland.

The lucky winner was Bill Bredbener from New Jersey

Proceeds from the sale of the scooter support EVA/DC's EV educational activities in the Washington DC area and help pay for the Power of DC.

2010 Power of DC
I still need to put up photos from 2010 but here is a link to an NBC story on our 2010 event. It was a blast.
http://your4state.com/search-fulltext?nxd_id=118105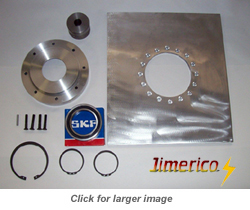 At the 2010 Power of DC we introduced Jimerico's new universal adaptor plate system which fits Warp 9's and 11's as well as the ADC 9's and the Kostov 9's. Developed by Jim Husted of High Torque electric and Eric Pedersen of Mountain Machining Inc., the new adaptor plate system simplifies the installation of the motor without expensive machining and time consuming measuring. Included in the kit is a large bearing that is much more suited for the side load being placed on it. The bearing is good to 6K RPM's.
Fun Run in the Sun
Charlie Garlow and Jo Reyes are building an awesome solar powered X-Treme BugE that will be traveling cross country beginning from the Power of DC. Be there for the send-off on Sunday afternoon. Visit the Fun Run in the Sun website for more information
2009 Power of DC

One of the Best of DCs ever!!!!
See the Photo Gallery including YouTube footage from our 2009 and 2009 Race Results.
Newspaper story on our 2009 event from the Herald Mail.
http://www.herald-mail.com/?cmd=displaystory&story_id=229604&format=html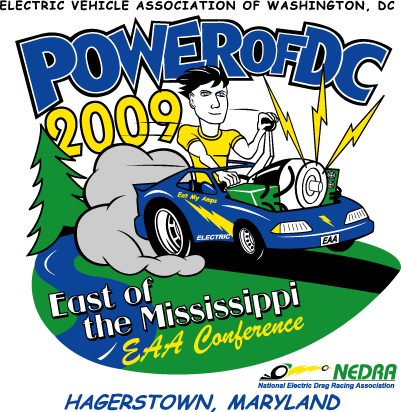 NEDRA News, Sept 1 - The 9th Annual Power of DC held in Hagerstown Maryland August 28-30 was a complete success with 17 vehicles racing, two NEDRA Records broken and two more inductees into the NEDRA 100 mph Club.
Below is a video of Don Auker's electric Tesla vs Shawn Lawless' (OBS-Orange Blossom Special) electric junior dragster driven by Chip Gribben.
MORE VIDEOS

http://www.youtube.com/watch?v=5fyjc7FR-Gw
http://your4state.com/content/video/?cid=77852
RACE RESULTS
Production EVs
1) 12.672 (103.93 mph) Dave Bolling - 2009 red Tesla Sport
2) 12.975 (103.42 mph) Don Auker - 2008 blue Tesla
3) 13.297 (99.36 mph) Tom Jamison - 2009 prismatic blue Tesla
4) 16.008 (87.76 mph) Ken Barbour - 2009 Mini-E
5) 20.117 (62.57 mph) Bryan Murtha - Ranger EV
6) 20.856 (63.73 mph) Bryan Murtha - RAV-4 EV

Dragsters
1) 14.861 (75.98 mph) Chip Gribben - Lawless Jr. Dragster

Conversion EVs
1) 17.689 (75.06 mph) Dave Cover - Porsche 944
2) 22.380 (55.07 mph) Alan Arrinson - VW Rabbit truck
3) 24.974 (52.70 mph) Bob Rice - VW Jetta
4) 28.416 (45.94 mph) Joe Lado - Destiny 2000 Fiero

Motorcycles
1) 9.699 (135.56 mph) Bryan Seara - AGNuS
2) 13.80 (88.90 mph) Jeff Disinger - Predator drag bike
3) 16.448 (81.62 mph) Nicole Balenger - Norton Electra
4) 19.876 (57.78 mph) Mike Kugler - Honda
5) 23.561 (51.561 mph) Charlie Garlow - Extreme Bug-E

NEDRA RECORD
Unofficially, the James Madison University Norton Electra is the SMC/H record holder at 16.448 (81.62 mph) and Dave Cover in the SC/B class.

BEST OF SHOW
1) Jeff Disinger - Awesome airbrushed drag bike, "Predator"
2) Alan Arrinson - Really cool and detailed teal green VW Truck
3) James Madison University - 1950's era beautifully restored "Norton Electra"
Sponsors included:
KTA Services
EV Parts
Manzanita Micro
EV Consulting
Hot Juice Electric
Hi-Torque Electric
Hagerstown Convention and Visitor's Bureau
Valley Mall
Florida Electric Auto Association
Electric Vehicle Association of Washington DC
Younger Toyota
Comfort Suite
The Tractor Store
Westwall Murray
Visit the Power of DC Website for all the info and feel free to contact Chip Gribben at pr@nedra.com or (301) 490-0657.
2008 Power of DC
2008 POWER OF DC RACING UPDATE
June 5, 2008 - Despite a few scattered thunderstorms the 2008 Power of DC was a successful event with 144 AutoCross runs made on Saturday and 2 NEDRA records broken on Sunday! Both events had 15 vehicles racing on both days and many more EVs and hybrids in attendance and on display. People came from across the US to the Power of DC from Virginia to California. CBS News, NBC, Planet Green, The Herald and the Discovery Channel came out to cover the excitement.
At the AutoCross on Saturday David Chen sped his Blue Streak 48-volt E-cart around the course in just 24 seconds. Dave Erb, driving Bob Salem's EV Rabbit truck, ELECTRKwent head to head throughout the day with Roy Nutter's US Electricar S-10 Pickup truck. Dave Cover easily handled the pylons with his Porsche 944 and Joe Lado did 27 laps on the course with his bright yellow Destiny 2000 Fiero! The course was set up by SCCA professional driver Brian Garfield and the staff of the Washington Chapter of the SCCA.
On Sunday, NEDRA President Shawn Lawless debute his new dragster, Juiced Up piloted by Eric Stanislaw, and on it's second run made a 131 mph pass at 9.75 seconds. Shawn's other entry, AGNuS (All Go No Show) drag bike, with rider Bryan Seara made a run at 127 mph in 9.98 seconds. Andrew Barlow, from California, took home a NEDRA record with his 24-volt bike Orange Crush, running 58 miles an hour in the quarter.
2008 Photo Gallery (Over 100 pictures from two days of racing)
Race results for AutoCross and Drag Race
MEDIA LINKS
MSNBC Hagerstown 25
Story and Video
http://dcpages.com/cgi-bin/jump.cgi?ID=5107
Search "Owners Of Electric Cars Showcase Their Wheels At Mason Dixon"
The Herald
News Story
http://www.herald-mail.com/?cmd=displaystory&story_id=195366&format=html
POWER OF DC T-SHIRTS AND PROGRAMS
We actually ran out of shirts and are printing more. If you would like to order one give me a call at 240-687-1678 or email at futurev@radix.net

2008 POWER OF DC SCHEDULE
Saturday, May 31 from 9am till 5pm

Location: Southend Shopping Center next to Aaron's
1181 Maryland Avenue, Hagerstown
Racing Fee: $25.00 per car which will help pay for insurance. Spectators are free. Open to EVs, hybrids and plug-in hybrids. Vehicle height cannot exceed vehicle width.
8:00 am to 9:00am - Arrive and set up
9:00 am to 10:00 am - Registration
10:00 am to 4:00 pm - AutoCross
12:00 pm - Lunch (available at the event)
1:00 pm to 4:00 pm - Range rally (tentative)
2:00 to 3:00 pm - Judging for Show-n-Shine
4:30 pm - Drag Racing at Mason Dixon (approximate time)
5:00 pm - Raffle
5:00 pm - Awards (tentative - may be at dinner)
6:30 pm - Dinner and Reception at Richardson's Restaurant
Richardson's Restaurant
710 Dual Highway
Hagerstown, Maryland
301-733-3660
Sunday, June 1 from noon till 5:00pm

Location: Mason-Dixon Dragway
21344 National Pike Boonsboro, MD 21713
Racing Fee: $25.00 per vehicle. Rainchecks from last year's event are accepted. Open to EVs and hybrids. Must be a NEDRA member to compete for NEDRA records. NEDRA Records only available for EVs.
10:30 am - Gates open
12:00 pm - Drag racing till 4:00 pm
1:00 pm - Lawless $500 1/8 mile motorcycle challenge
5:00 pm - Awards Presentation/Raffle
6:30 pm - Dinner and Reception at Ledo's Pizza

Ledo Pizza (our usual haunt after the Power of DC)
1423 Dual Hwy
Hagerstown, MD
301-766-4900
SPONSORS
Visit our sponsor page for links to the sponsors who have made this event possible.
DOWNLOADABLE FLYER
Download the official 2008 Power of DC Flyer
MAP OF 2008 EVENTS

A convenient map lists times and locations of the events and hotels.

JPEG Version of Map
PDF Version of Map
Click here for a detailed layout of the Saturday Events.

HOTELS

Comfort Suites (1801 Dual Highway in Hagerstown) is offering PDCers a special $75.00 per night rate on a first come first serve basis. A 30 percent discount off their regular rate. Call 301-791-8100 for reservations
The Plaza Hotel located at Exit 5 off I-81, 1 mile north of I-70, is convenient to the AutoCross and is offering discount rooms for the event. Call 800-732-0906 for reservations.
$75.00 - Standard Room - 1 person
$85.00 - Standard Room - 2 people
For both hotels, mention Power of DC when you make your reservations, to receive the discount prices. There is a Jazz Festival the same weekend so reserve early.

Click here for a listing of other area hotels. There are hotels along Dual Blvd which is on our hotel page and along Halfway Blvd.

AIRPORTS AND TRANSPORTATION

Baltimore Washington International Airport (BWI)
Baltimore, MD 21240
(77 miles to Hagerstown, 1 hour 20 minutes)
Baltimore Washington International Airport (BWI)
1 Saarinen Circle
Dulles, VA 20166-7506
(60 miles to Hagerstown, 1 hour 10 minutes)

The area is served by Baltimore International Airport (BWI), Dulles and National Airports. Each airport is about 70 miles from Hagerstown (1 hour 15 minute drive). Hagerstown Regional Airport transfers from BWI and also serves the area, however please check with your booking or travel agent concerning flights to Hagerstown Regional.
REGISTRATION

Please RSVP at futurev@radix.net

MEDIA COVERAGE
Planet Green from the Discovery Channel and the Travel Channel are both expected to be at this year's event.
EV AUTOCROSS

The Sports Car Club of America will be setting up our AutoCross event. This event is open to both hybrids and EVs. Vehicles should not be higher then they are wide. Charging will be provided.
NEDRA DRAG RACING

We will be racing a NEDRA sanctioned drag race on June 1 at the Mason Dixon Dragway. See the NEDRA website for appropriate rules, records and classes. Charging will be provided.
CHARGING FOR ELECTRIC VEHICLES

A 70 kW diesel generator will be available on both days. The electric panel, designed by BadFishRacing's Darin Gilbert, will have available a NEMA 10-30 and 14-30 240 volt outlet as well as 16 120 volt outlets.
Call Chip Gribben at 301-490-0657 or cell at 240-687-1678 or email at futurev@radix.net if you need more information.
AUCTIONS AND RAFFLES

We will be auctioning off custom made 6.7 inch motors built by Jim Husted and a motor provided by Thunderstruck Motors. And we will also be raffling off some other goodies provided by our sponsors. Bidders must be present at the event.
---